There is something to be said about passion and tradition, especially when it comes to good food. Joel Orlik, the new owner of The Wellington Butchery, formerly Sasloves where he worked for eight years, serves up chef's quality meat with flavour and substance for those who love to feast at home! He does this by choosing only the highest quality tender meats, knowing his product inside-out and he is committed to consistently bringing premium meat market fare to his clientele. He'll make sure you walk away with both satisfaction and confidence that you'll cook your best meal yet! Best part? His beloved butchery is only a three minute car ride, or 16 minute walk, from your front door at Hintonburg Connection – the perfect pairing for your urban Ottawa lifestyle!
Joel's longtime industry experience comes from having five generations of butchers in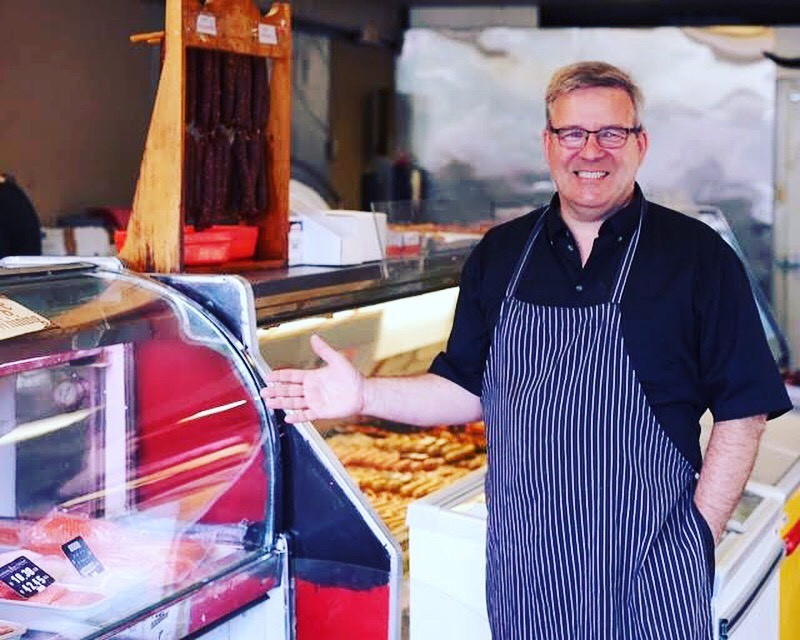 his Austrian descendant family, beginning with Joel's great, great grandfather master butcher in Bohemia during the 1830's. Since then the family tradition has been passed on through generations and perfected along the way. The art of butchery is in Joel's blood to say the least.
As a new owner of the Wellington Butchery, Joel has some big plans in place. He is revamping the storefront to enhance the shopping experience, he is empowering his team to create gourmet meals to go and, most surprisingly, he's incorporating vegan options! Joel says with a smile, "Since I know we all can't eat meat 24/7 (and neither do I), we wanted to offer some healthy vegan options to balance."
If you're more of DIY-er in the kitchen like Joel, rest assure his expertise and knowledge in the butcher industry experience extends 15 years. He is meticulous about his craft, and when available, sourcing as much local agro-products as possible. Once you've tasted the difference between what supermarkets offer vs. "Joe Big" (as colleagues and a few devout patrons nick-named him), there is no comparison! Joel never cuts corners on quality. Bonus? He knows the tricks of the trade when it comes to at-home cuisine and preparing all sorts of succulent poultries, porks, and juicy red meats for cooking with precision to get the maximum flavour and tenderness. Ask him just about anything when it comes to cooking meat; he's tried it.
How convenient is that to have a local butcher that you trust for good-quality product and who will educate and bring forth your confidence in the kitchen only minutes from your front door at Hintonburg Connection?